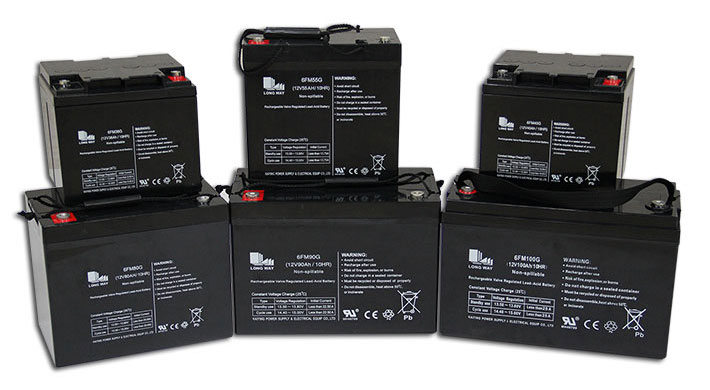 Longway S series (Solar Series) lead-acid batteries are specially designed for the use environment of solar and wind power generation systems, and have been through many years of research and optimization design. The battery has good charging and discharging performance in extreme environments such as high temperature and low temperature, and it still has a good capacity retention rate under under-charged conditions.
Standardsd
Products meet JIS, DIN, and IEC standards.
Passed ISO9001 & ISO14001 certification.
Products meet UL (MH46789) safety performance requirements and CE certification requirements.
Features
1. Good cycle performance. Strong anti-overcharge ability and good over-discharge recovery ability.
2. High-purity raw materials: ensure low self-discharge rate
3. Using oxygen circulation technology to achieve maintenance-free
4. Using excessive, low-density electrolyte and wider plate spacing to ensure that the battery is in a low temperature state and low grid corrosion rate.
ABS material: improve the strength of battery case (if necessary, flame retardant materials can be provided)
Applications
| | | |
| --- | --- | --- |
| 1. Green energy systems (solar, wind, hydro, etc) | 2. Solar stations | 3. Pump systems |
| 4. Telecommunication facilities | 5. Photovoltaic base station | 6. Boats or buoys |
| 7. Lawn lamp | 8. Survey and Mapping system | 9. Street lights |
Battery
Model

Nominal
Voltage
(V)

Nominal
Capacity
(AH) 20HR

Length

Width

Height

Total Height

Weight(±5%)

Terminal

In

mm

In

mm

In

mm

In

mm

lbs

Kg

Type

Position


3FM200S.pdf

6

200

12.72

323

7.01

178

8.82

224

9.02

229

63.9

29.0

F11

A


6FM9S.pdf

12

9

5.94

151

2.56

65

3.70

94

3.94

100

5.7

2.6

F1/F2

F


6FM12S.pdf

12

12

5.94

151

3.86

98

3.74

95

3.98

101

7.2

3.3

F2

F


6FM18S.pdf

12

18

7.13

181

3.03

77

6.57

167

6.57

167

11.2

5.1

F4/F8

D


6FM20S.pdf

12

20

7.13

181

3.03

77

6.57

167

6.57

167

12.3

5.6

F4/F8

D


6FM24S.pdf

12

24

6.89

175

6.54

166

4.96

126

4.96

126

18.1

8.2

F5/F8

D


6FM28S.pdf

12

24

6.89

175

6.54

166

4.96

126

4.96

126

19.8

9.0

F5/F8

D


6FM33S.pdf

12

33

7.68

195

5.12

130

6.34

161

7.13

181

23.1

10.5

F9/F15

C


6FM40S.pdf

12

40

7.80

198

6.54

166

6.69

170

6.69

170

29.1

13.2

F9

D


6FM45S.pdf

12

45

7.80

198

6.54

166

6.69

170

6.69

170

31.3

14.2

F9

D


6FM50S.pdf

12

50

9.02

229

5.43

138

8.19

208

8.78

223

36.4

16.5

F9/F20

C


6FM55S.pdf

12

55

9.02

229

5.43

138

8.19

208

8.78

223

37.9

17.2

F9/F20

C


6FM65S.pdf

12

65

13.78

350

6.61

168

7.09

180

7.09

180

49.6

22.5

F6/F9

C


6FM80S.pdf

12

80

12.09

307

6.57

167

8.27

210

8.46

215

52.9

24.0

F9

C


6FM100S.pdf

12

100

12.99

330

6.81

173

8.62

219

8.82

224

67.2

30.5

F12

C


6FM120S.pdf

12

120

15.94

405

6.81

173

8.27

210

9.33

237

77.2

35.0

F12/F17

C


6FM140S.pdf

12

140

13.43

341

6.81

173

11.14

283

11.34

288

91.49

41.50

F12

C


6FM150S.pdf

12

150

19.02

483

6.69

170

9.49

241

9.49

241

98.1

44.5

F11

C


6FM200S.pdf

12

200

20.55

522

9.45

240

8.62

219

8.82

224

136.7

62.0

F11

E


6FM250S.pdf

12

250

20.47

520

10.59

269

8.66

220

9.65

245

163.1

74.0

F12/F19

E